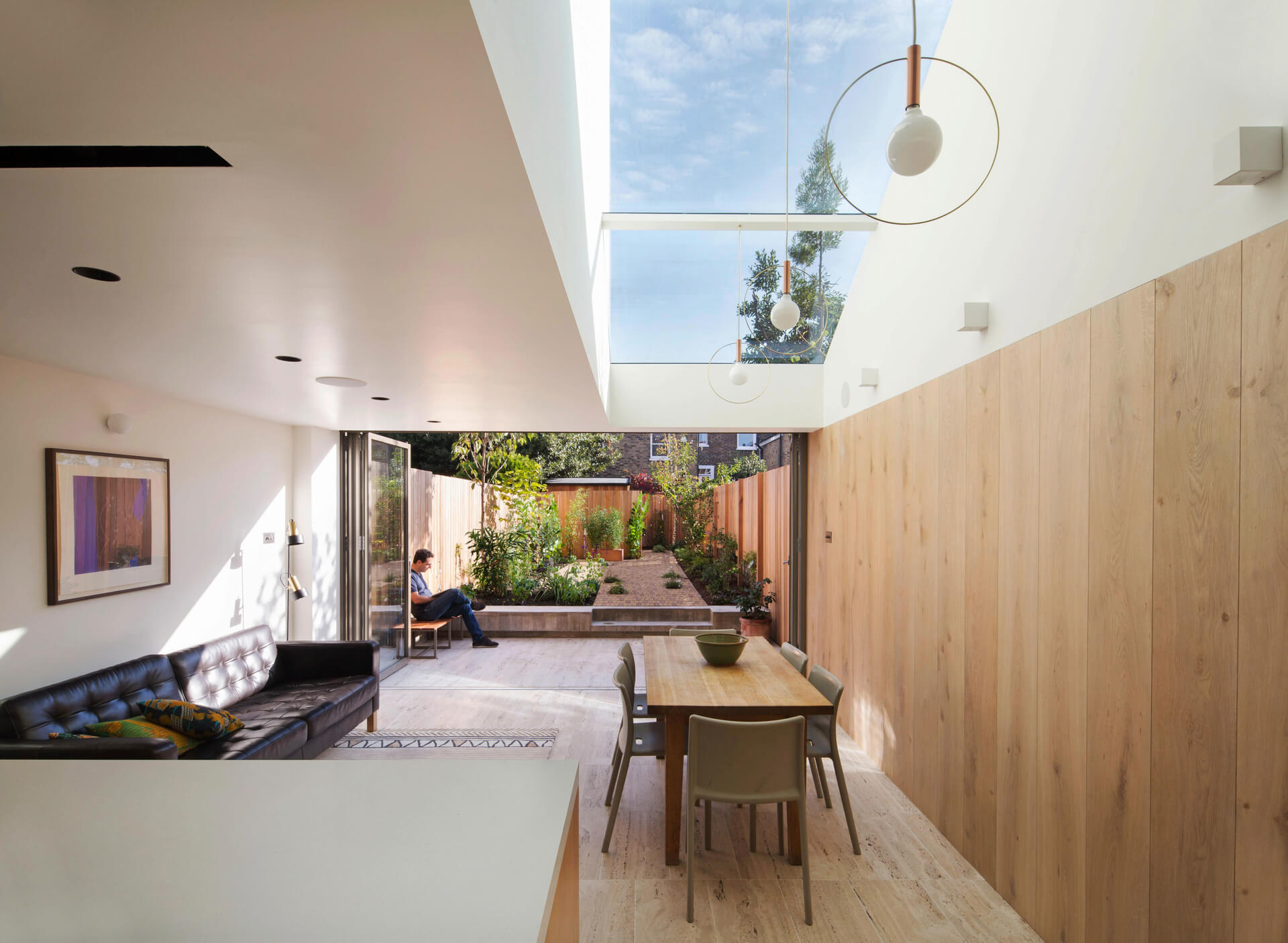 As award-winning architects in Hackney and beyond, we're proud to announce that one of our projects was recently shortlisted for New London Architecture's Don't Move, Improve! 2019 awards. This is all thanks to the imaginative design approach of Neil Dusheiko, Hackney residential architect, in transforming the London home he shares with wife, Lucy Maggs.
Dusheiko House competed with more than 200 family home extensions, studios and garden rooms designed by London architects and architectural designers, in a competition which celebrates the best and most innovative London home extensions and improvements. Neil's house design was acclaimed in the Evening Standard:
The double-height extension, energy-saving touches and open skylight in a new master en-suite transform the now warm and welcoming Dusheiko House, by Neil Dusheiko Architects. It's bespoke, sustainable and scented inside with seven different types of wood.
'It's good to see a trend of gentle experimentation with sustainable natural substances, particularly brick and wood,' says judge and Evening Standard Homes & Property journalist, Philippa Stockley. 'And of homes being extended in ways that revolve around their owners' lives, resulting in something both idiosyncratic and full of character.'
A stunning double-height glazed lightwell lies at the heart of Neil's design, connecting the once-dark and cramped basement kitchen-diner with the living room above. In the new loft conversion – the parental bedroom – a glorious skylight sits above the ensuite shower, which slides back at a touch of a button.
'I like the juxtaposition of living in London but being able to shower, effectively, outside,' says Neil. 'It's surprising how many days we've been able to use the feature throughout the year.'
For the interior decoration, Neil's played with seven species of wood with the sapele swept handrail holding centre stage as the stairs wind up through the house, anchored at the lowest level with oak-clad walls, yew kitchen cupboards and teak bathroom cabinets.
Neil is delighted the design has been shortlisted. 'There's a strong pool of architectural talent in architecture firms around London and we're really pleased to receive the recognition,' he says. 'Our project was a great opportunity to push the boundaries of design in what was really, quite an ordinary and modest house, which we can also share with clients needing an architecture firm in Hackney or beyond for similar house projects.'