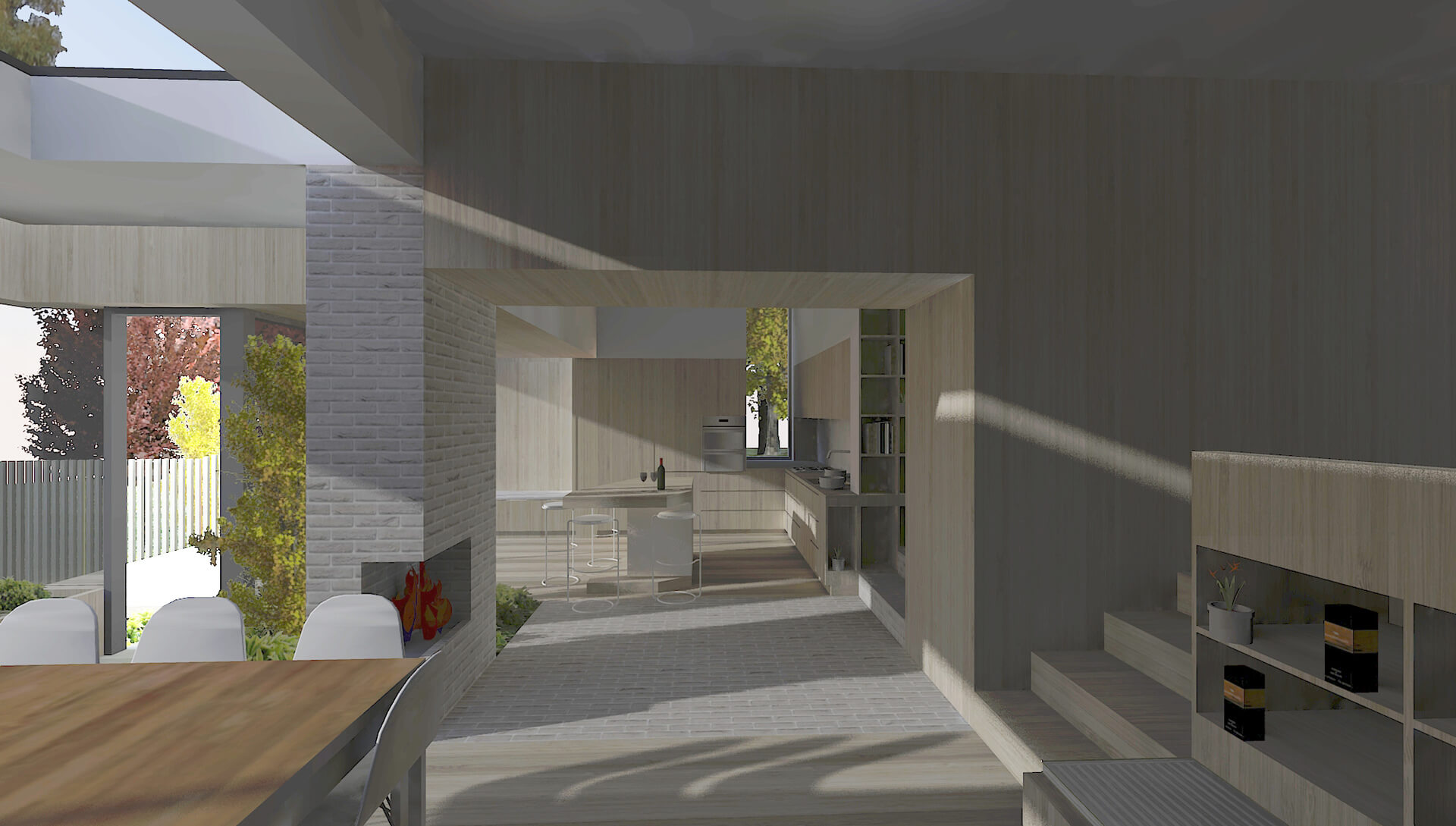 North London architecture firm, Neil Dusheiko Architects, is now in the construction phase for a house project in Barnet that's been designed in harmony with plans for a newly landscaped garden.
The end-of-terrace, 1930s property sits on a quiet cul-de-sac and also borders a public park, encouraging the London architecture company to progress a design that embraced the green outdoor space.
'The property needed extensive refurbishment and extending to form a cohesive link with outside,' explains Neil Dusheiko. 'Beautiful views are afforded to the long garden and park beyond. Our project explored how architecture and nature can work together, and our resulting design plays on this connection.'
The central axis running through the middle of the house will be characterised by rich timber veneer cladding on the walls, and brick pamment flooring. This forms the entryway link with far-reaching garden views visible from the front entrance. The extension steps down from the main house and is divided into two wings for the kitchen and dining areas. The lowered floor level meets the level change in the garden and opens seamlessly onto two terraces.
'The rear façade is completely glazed at ground level allowing a sweeping vista with uninterrupted views of the garden and green space,' says Neil Dusheiko. 'Some of this green is brought back into the house with a large indoor planter marking the division between the eating and cooking areas.'
Mature trees in the garden form a permeable boundary with the park and needed protecting from the excavation works. The North London architectural designers sought advice from arborists and liaised with the local planning department to ensure their design was compliant.
The London architectural design team also worked closely with landscape designer, Jane Brockbank, to form a coherent design that will allow the surrounding flora to flourish. The rear garden forms a valley that collects rainwater run-off from the park. Jane's garden design will make use of this natural flooding and feature a planted swale, traversed over by a series of small boardwalks.
Neil Dusheiko Architects are architects in Hackney based in the London borough of Islington and are an architecture firm with projects in West London, Stoke Newington, Great Shelford and Cambridge.